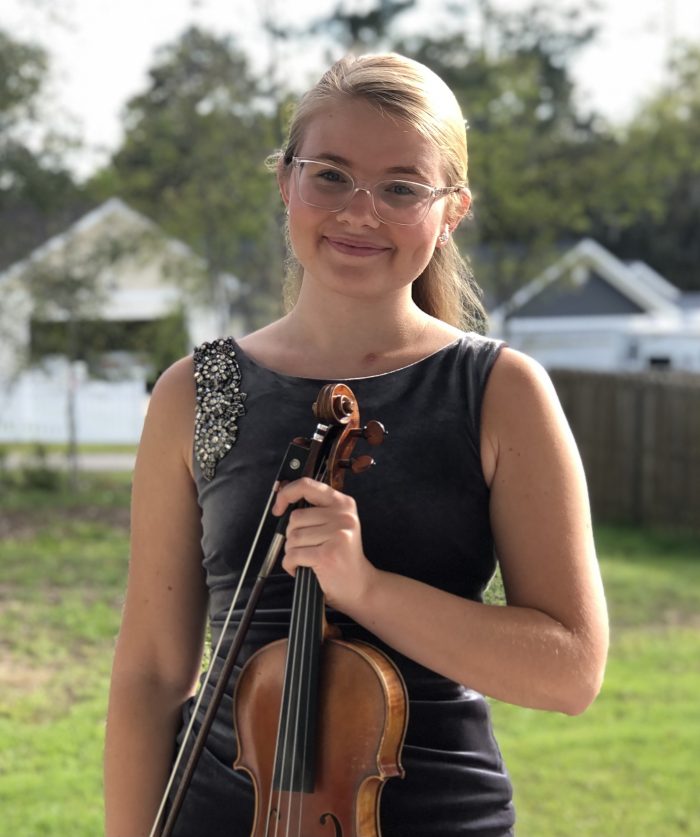 Piney Village Loop, Tallahassee, FL
Violin Lessons | Online Lessons
will travel to you please enquire.
---
Qualifications:

M.M. Violin Performance- Florida State University, B.M. Violin Performance- University of Minnesota

Pricing:

dependent on location - contact me for more information

Styles:

Classical, Folk, Pop

Suitability:

Beginner, Intermediate, Advanced
---
Bio
Angel Andres graduated from the Saint Paul Conservatory for Performing Artists in 2016. During this time, she studied under Roger Frisch, Associate Concertmaster of the Minnesota Orchestra. In addition to her studies, she was a member of the Minnesota Youth Symphony and the Artaria Chamber Music School. Her quartet earned second place in the Saint Paul Chamber Orchestra's annual competition in 2016. Angel earned a Bachelor of Music degree in Violin Performance from the University of Minnesota in 2020. She studied under the pedagogical expertise of Sally O'Reilly. In the summers of 2017 and 2019, she took her studies to Italy to attend the Pienza Music Festival. Currently, Angel is pursuing her master's degree at Florida State University under the direction of Dr. Benjamin Sung. In her studies, Angel aims to put her musical knowledge and performance strengths to good use. She aspires to pass along the gift of music through teaching. For Angel, the greatest joys of being a musician are the opportunities to connect, share, and give to others.
---
Teaching Info
Angel's Violin Studio is growing! I am based in Tallahassee Florida and am thrilled to welcome new students.
I am passionate about sharing my knowledge and joy for music with others. I aim to teach with creativity, compassion, and care. If you work with me, we will nurture a space of connection and growth that will support you to reach YOUR dreams– whatever they may be. 
Lessons provide a foundation of technique and resources that set students up to play any piece of repertoire over time. I am committed to showing up to lessons with patience, support, and guidance for my students. With this, anything is possible when a student brings their share of commitment, hard work and positivity.
Learning an instrument teaches various life skills that students will carry throughout their lives. To list a few- responsibility, commitment, work ethic, time management, creative problem solving, multi-tasking, identification and expression of emotions, and self-discovery. All of the above are central to studying music. My teaching approach will prepare you to take music as far as you desire, while also leaving you with beneficial skills to carry with you in life. 
The violin is one of the most complex and challenging instruments to learn, but do not despair! I am here to tell you that playing the violin is not left to magic! ANY student who has an interest in the instrument and a desire to incorporate it into their life will be able to learn the violin. As a committed teacher, I offer the knowledge of both resources and techniques that will bring each student success. Additionally, I mentor with a compassionate and sensitive approach to the individuality of every student. I assess strengths and weaknesses with the flexibility and care necessary to help anyone shine! It is my passion to help others reach their goals. Let me join you on your violin journey today!